HOW MONSTER-ISH ARE YOU?
Do classic films like Frankenstein, Dracula, The Wolf Man and The Creature From the Black Lagoon rank among your favorite frights?

Do names like Karloff, Lugosi, Chaney, Atwill, Carradine, Lee and Cushing give you a chill?

Do you want a ghoul just like the ghoul that harried dear, old dad?
If you answered YES to these questions then FREAKY MONSTERS is the magazine for YOU, monster lover!

Issue after terror-ific issue, Freaky Monsters is your guide through the corridors of Classic Horrorwood. Each issue is loaded with dozens and dozens of vintage fotos from the old, late-night Shock Theater shows...treasures like FRANKENSTEIN, DRACULA, THE WOLF MAN, THE MUMMY, THE CREATURE FROM THE BLACK LAGOON, THE PHANTOM OF THE OPERA, to silent masterpieces like THE CABINET OF DR. CALIGARI, NOSFERATU, THE MAN WHO LAUGHS, to the beast (and worst!) Shock Theater TV classics like CURSE OF THE FACELESS MAN, THE WASP WOMAN, FRANKENSTEIN 1970, MONSTER ON THE CAMPUS, THE BRAIN THAT WOULDN'T DIE and many many more.
The fotos in Freaky Monsters are BIG! Each issue is packed with loads of snappy, clear full page and half page pictures, all digitally restored and presented in their horror-ific splendor on premium glossy paper. No other classic filmonster magazine in the world comes anywhere near matching Freaky Monsters in print quality! Each issue features dozens of great fotos, plus a giant centerfold print. Freaky Monsters is the home of classic horror, sci-fi and fantasy--the terror treasures from the early days of silent films through the ghoulden days of the 1930s, 40s, 50s and 60s.
Freaky Monsters is published bi-monthly and is edited by Ray Ferry, who successfully revived Famous Monsters of Filmland magazine to the delight of fans in 1990 and kept it going for 18 years! Today, that tradition and dead-ication to quality continues on in Freaky Monsters. Remember, not all monsters are famous, but they're all freaky! And Freaky Monsters is still the fear-most magazine of choice for true-grue fans of the classic monsters. Whether you are a charter monster lover, or a young monster just discovering these Scream Gems, Freaky Monsters will thrill you and chill you in a way unmatched by any other monster movie magazine!

FREAKY MONSTERS BRINGS YOU THE GREATEST NAMES IN CLASSIC HORROR, SCI-FI & FANTASY! PAGE AFTER PAGE, ISSUE AFTER TERRORIFIC ISSUE!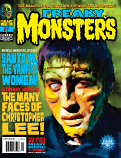 From Mary Shelley's immortal Monster to Dracula. From the Wolf Man to the Creature from the Black Lagoon. From Godzilla to King Kong. From Im-Ho-Tep, the mummy to Christopher Lee as Kharis. Freaky Monsters had all the classics plus many rare and long-forgotten B-movie titles fans of classic horror love. Lots of never-before-seen behind-the-screams photos and fascinating, informative articles, puzzles, quizes and special features. And when you pre-order our newest issues, you get free dis-membership in the Freaky Monsters Fan Club where you will be able to watch streaming video of many of the films we feature in each issue...especially rare and little-known films that are very hard to find!
NOTE TO PARENTS:
Freaky Monsters magazine is dead-icated to classic horror. There is no gore, nudity, bloody, graphic violence or profanity in any of our issues. Many grandparents share Freaky Monsters with their kids (when the kids can tear grandpa away from his copy!) In fact, we have a number of teachers, college professors and even ministers who use Freaky Monsters in their courses! Freaky Monsters is safe for kids, fun and educational. Halloween lives all year in Freaky Monsters!
If you're not reading Freaky Monsters, you're like
King Kong without Fay Wray!
The Mummy without his Tana leaves!
The Wolf Man without the full moon!
Dr. Jekyll without Mr. Hyde!

JUST READ THESE UNSOLICITED COMMENTS FROM RECENT READERS:
"I'm only 10, but since I started reading Freaky Monsters, none of my relatives kiss or hug me anymore at family gatherings. Thanks, guys!" (Jason)
"Getting Freaky Monsters delivered to my rooming house is such a convenience. I've never seen such great service!" (The Invisible Man)
"With my Freaky Monsters Dis-Membership, I've gotten big discounts on art for my summer sewer house!" (Erik, Paris Opera)
"Ever since I started getting Freaky Monsters delivered, my husband stays at home every night...and he hasn't killed a villager in months!" (The Bride of Frankenstein)
FREAKY MONSTERS HAS BECOME A VALUABLE COLLECTORS ITEM!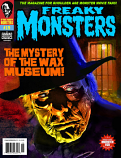 Like Ray Ferry's issues of Famous Monsters from the 1990s and 2000s, back issues of Freaky Monsters sell on eBay and other sites for 2 and 3 times their original cover price. And subscriber and pre-order copies bundled with their Bonus Premiums sell for $30 to $50! But don't buy Freaky Monsters because it is a valuable collectors item. Buy it because it's FUN, INFORMATIVE, and FEATURE PACKED! Pick up a copy and you'll be instantly transported back to a simpler time...a time of youthful innocense when being a kid was great fun. Whether you remember the Ghoulden age of horror or you're a young monster who wants to learn about a truly fang-tstic time when monsters ruled, FREAKY MONSTERS is for you!
SO WHAT ARE YOU WAITING FOR?!
Click here to order a copy and see for yourself.
SATISFACTION GUARANTEED!
If you are not 100% delighted with your issue, we'll refund your purchase price! *
(* Refund includes full amount paid for issue + shipping on purchases from filmlandclassics.com web store only. Refund requires customer return of purchased copy in undamaged condition first. Customer is responsible for cost of returning copy which is non-refundable by filmland classics.