Life Is But A Scream! Updated Second Edition (2016)
(Tentative Release: Winter, 2017)
The long-awaited followup to Ray Ferry's Beast-selling memoirs of his experiences in reviving Famous Monsters of Filmland magazine from the ranks of the undead. This updated second edition contains the same content from the first edition (published in 2000) and also provides additional chapters covering events that transpired between the end of 2000 until today. You'll learn what happened after the Ackerman v. Ferry legal fiasco, read about Ferry's re-revival of Famous Monsters with issue #236 in 2004, the continuing attempts to obtain justice for the corrupt legal actions that were taken, the publicaion of Ferry's final issue, FM #250, and the creation of Freaky Monsters and Freaky Tales magazines.
Whether you missed LIBAS the first time around, or you already have a copy, you'll want to read this incredible updated second edition to learn what happened after May, 2000 and why. You'll learn what was really going on behind the screams and why such a seemingly insignificant magazine trademark became the focus of an intense legal battle for control involving some high profile classic horror celebrities and big-money Hollywood business interests. These are stories Ray and Connie couldn't disclose at the time even though they desperately wanted to. By condensing some material from the first edition and redesigning the included photographs, this new updated 2nd edition provides a more complete picture of what was going on and, for the first time, fans will come to understand what the "big deal" was, free from the myopic propaganda spread thick by the 4E kool-aid crowd.
A GRIPPING NARRATIVE:
Most fans who read the first edition of LIBAS reported they couldn't tear themselves away from the book once they started reading and many have read it several times. That's because LIBAS isn't just our story. If you're a fan of the Ghoulden age of horror and the glory days of Famous Monsters magazine, this is your story, too. What happened to Ray and Connie affected every fan of the magazine. Ferry's candid narrative takes you right into the heart of the drama revealing how and why they never gave up the fight. LIBAS must have hit a nerve because some of Ferry's most vocal detractors are still denouncing it in reviews on Amazon 15 years after it's original release while consistently maintaining they've never read it!
IF YOU ARE A COLLECTOR:
Original copies of LIBAS routinely sell for upwards of $50.00, often as high as $200 or more. At least 1 auction seller has it listed at over $2000.00! Here's your chance to get the book classic horror fandom has been talking about, arguing about, praising and damning for over15 years! A companion book, "Life Is But A Scream II: The Evil That Men Do" which will chronicle the sordid, intimate details about those years from 2001 through 2016, including several never-before-seen-by-the-public government letters and court documents, is planned for end of 2017. That book is going to ruffle some feathers from fandom to Washington, DC!
TWO VERSIONS WILL BE AVAILABLE:
LIBAS, Second Updated Edition, will be published in 2 versions:
A general release 6" x 9" Perfect Bound Trade Paperback, like the first printing, SRP $29.95
A Casebound, Hard Cover Library Collector Edition with Dust Jacket, SRP $44.95. We have had many requests for a hardcover edition. The Hard Cover Version will be a Limited Edition run of 300 copies and will be available only to customers who reserve their copies in advance.
Both versions will be available with "signed by the author" option at no additional charge.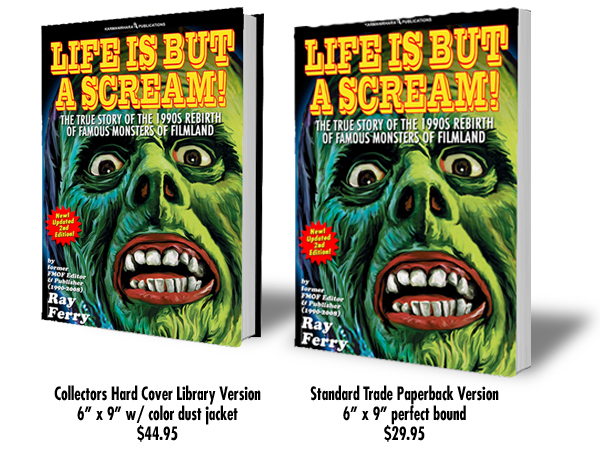 TO RESERVE YOUR COPIES TODAY WITHOUT CHARGE:
Just fill in the form below, check the version(s) you are interested in and click "Submit Form". There is no obligation. No payment or deposit is required. We will contact you by E-Mail just prior to publication so you can place your actual order. Freaky Monsters Subscribers will be able to use their Club Discount Codes at time of ordering. (Which ever version you choose to reserve, you can change your mind when you actually place your order. (i.e., If you reserve the paperback version and decide later you want the Hard Cover version, you can change but be aware that the Hard Cover Version is limited to 300 copies so if you want one later, we can not guarantee availability.)
"Life Is But A Scream!" Reservation Request Form: